54th St. Bar and Grill
54th Street Bar and Grill flipped the typical chain restaurant concept on its head when they opened a bar and grill that focused on infusing good food with a central bar atmosphere. Instead of separating the bar area, 54th Street Bar and Grill created an environment that accommodates a lively bar crowd with a consistently crowded dining room, translating into a great experience for all.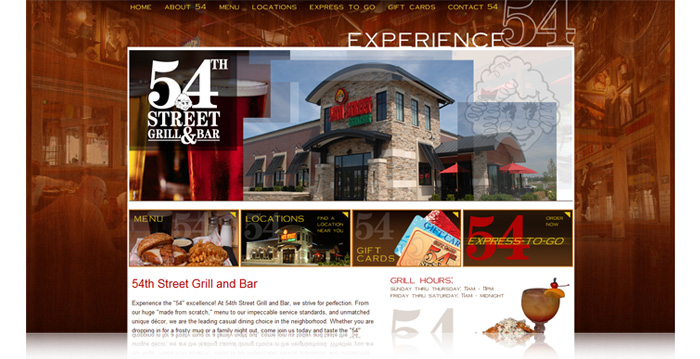 Unprecedented Growth
The Five-Four concept of combining a great bar environment with a large menu of made-from-scratch food turned the eatery into an upscale casual restaurant that managed to maintain casual dining prices. Additionally, they created a standard indoor/outdoor controlled climate patio area that allows diners to sit comfortably outdoors almost 9 months of the year. As a result, the company quickly grew to include 15 locations in Missouri, Kansas, and Illinois.
As the company expanded, the 54th Street Bar and Grill's website struggled to keep up with the growing company. 54th Street turned to Captiva Marketing to revamp their online presence so that customers could experience the spirit of the restaurant on their website.
The restaurant's design is a combination of nostalgic and cozy décor that is highlighted by etched glass and high end booths and furniture. The new website reflects the spirit of the interior of the restaurant by juxtaposing images of the new bar concept with logos and pieces from the bar's past.
Empowering a Menu
Captiva Marketing designed the website to integrate with the Empoweren Content Management System. Because 54th Street is growing and changing, the ability to be able to add and change content, add locations, and revise messaging was important so the website could be as versatile as the restaurant needed.
Captiva also developed a custom Menu Manager that is an ideal solution for any restaurant chain. The menu manager standardizes menu items, grouping them into categories and making it extremely easy for the company to update, add, or change menu items.
End Result
Now 54th Street has a website that reflects the company's growth and expansion. As the company develops marketing efforts such as event promotion and email marketing campaigns, 54th Street's website has the ability to adapt and incorporate those marketing efforts within the site.