Amini's Home, Rugs and Game Rooms
Known throughout the Midwest for their huge selection and elegant stores, Amini's (the Home of the Copper Dome) is a specialty retailer of game room products including pool tables, gaming systems, bars, game room furnishings, area rugs, theater seating, and patio furniture. They approached Captiva Marketing about updating the look of its corporate website, making it more user-friendly and easier to manage while improving its presence in the search engines.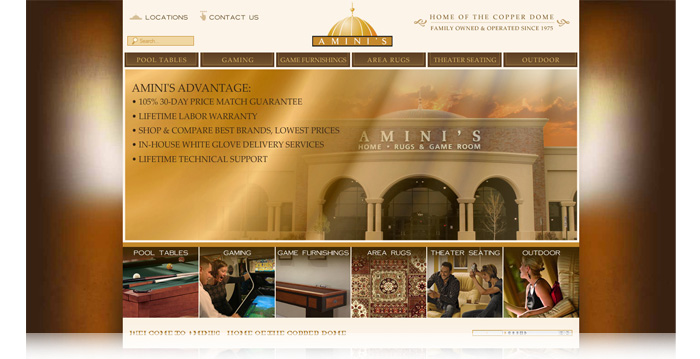 Updating the Look & Making It More User Friendly
To give their site an appearance that equaled the impressive storefront of the retailer's copper-domed buildings, Captiva's design team incorporated an engaging Flash area that positioned the company as a leader and featured recent specials and events. An innovative product menu further engaged clients while the global navigation enhanced usability with simplified links to products from every page in the site.
Making it Easier to Manage
As part of this website upgrade, Amini's wanted to move the site to a content manager that was easier for its employees to manage. The old site required developers to implement all updates. This was a major problem because Amini's completely changes their product line throughout the year due to new trends in the home furnishing and game room business. By moving the site to the Empoweren CMS, employees without any web programming skills could now modify, add, and remove product information and images on a regular basis, reducing both the time and costs involved in the process. The News Manager and Calendar modules also make it easier for Amini's to inform potential customers about its new merchandise, sales, and other events.
Improving its Presence in the Search Engines
Not only was the old site outdated graphically and hard to maintain, but all of the links and content were embedded in Flash and featured URLs that were not search engine-friendly. This severely limited the site's spiderability and led to extremely poor rankings in the search engines. Even if on-page elements could be aligned with the search engine ranking algorithms, the structure of the old content management system would inhibit the spiders from reading the optimized content. With Empoweren, Amini's workers can quickly enter titles, meta-descriptions, keywords, and other elements key to achieve high organic rankings.
Customized Integration
To further enhance the user experience, Captiva's development team integrated third party room planning software geared towards the game room market so that visitors to the site could literally lay out their new space with Amini's games, furniture, and rugs.