Arrow Dental Care
When Dr. Matt Howard moved his practice from Southern Illinois to St. Peters, Missouri he knew he was going to need to attract new customers. Part of this strategy involved the development of a professional website that generated relevant visitors through the search engines and provided comprehensive information for all of the services his office provided. After settling on the name Arrow Dental Care, he turned to Captiva Marketing to develop his website.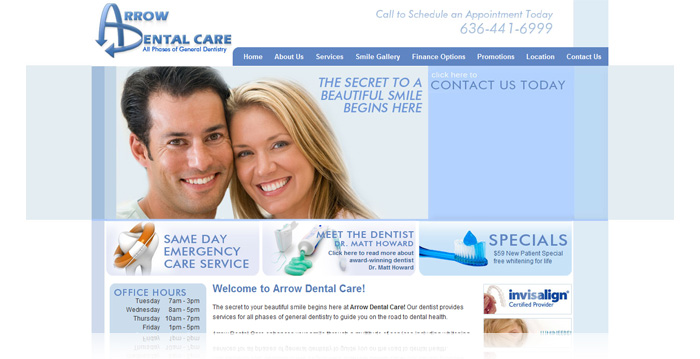 Professional Image
After discussing his business plan, the Captiva design and marketing teams designed the site to be clean and easy to navigate while integrating contact forms to encourage visitors to inquire about Arrow Dental's services.
To further promote his work, Dr. Howard wanted to utilize a photo gallery to highlight his dental improvements with accompanying descriptions of which services he had performed. With the Empoweren Photo Gallery Manager, he or his staff can easily upload new photos and create new albums for publication anywhere on the site.
Powerful Calls to Action
The Empoweren Forms Manager lets Arrow Dental employees manage the inquiry form that allows potential and returning customers to contact Arrow Dental Care directly regarding appointments and services. The site's contact form makes use of the predefined name, address and date picker options as well as a paragraph component for comments and check boxes for patients to indicate what services they are interested in.
Improved Customer Retention
In order to attract and retain customers, Dr. Howard offers special incentives on exams and whitening for new and returning patients. Since he periodically changes these specials, Empoweren makes it easy to quickly update and publish text to reflect Arrow Dental Care's new promotions. Dr. Howard also uses the WYSIWYG page setup to quickly add photographs and text descriptions of new staff members and new services offered as he builds his practice.
While Dr. Howard doesn't need to update his site every day, Empoweren lets him make changes as required quickly and easily, even in the short time between patient exams. As Dr. Howard's practice grows, the Arrow Dental Care website can grow with it.