Azopharma
Azopharma Drug Development Services offers scientific solutions to the pharmaceutical, biotech and medical device industries. They have the flexibility to provide individual stand-alone specialty services or can act as a more comprehensive R&D arm of an organization providing customized development programs specific to areas of need.
In addition to the core Azopharma business, the company is also an umbrella organization for three other companies: Cyanta Analytical Services, AnaClin Preclinical Services and AvivoClin Clinical Services. Each organization had sites that were quite outdated and did not have any consistency between the four sites.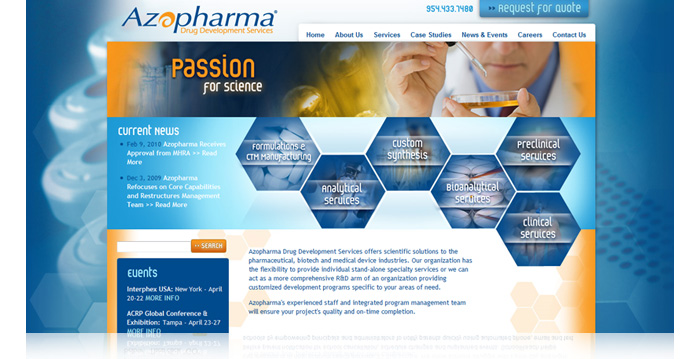 In order to hone in on their services and create a web look that was consistent with the branding of the individual companies and the organization as a whole, they needed to redesign all the websites completely in order to properly reflect the complexity of the companies' services.
Captiva Marketing suggested that all four sites be designed using the Empoweren system because they could easily be maintained by the individual companies but then all the designs could relate back to each other.
Azopharma's site was designed to highlight all of the company's drug development services. They were able to create individual pages that describe each of the services within their six main competencies: formulations and CTM manufacturing, analytical services, custom synthesis, bioanalytical services, preclinical services, and clinical services.
Because the company attends many industry events and releases company news on a regular basis, they also wanted to call out this important information on their home page. By implementing news feeds from the Empoweren News Manager, they can internally maintain their news pages and publish headlines and event information directly to their homepage.
Additionally, because Azopharma had such a deep news archive, they wanted to move all of their past releases to the new site. The Empoweren News Manager not only enabled them to easily move all the past releases, but they were able to set up redirects within the News Manager so that all old links would direct users to the proper URLs on the new site.
Due to the depth of content and archived news now present on the site, Captiva also installed a search function on the Azopharma site so that users can easily find what they need.
The end result is four sites that all have unique looks and feel but have similar structures. That way each company can stand alone but there is an overarching structure that unites the company. And now each individual company can keep their site updated with news and events internally using the Empoweren Content Management System.