Baker Pool Construction
Baker Pool Construction has been building customized inground pools around the St. Louis Metro Area since 1968. The company has built over 2,400 concrete swimming pools and established itself as the leading pool construction company in St. Louis. Baker's design capabilities, commitment to quality, and integrity in how it deals with its customers have set them apart from other competitors.
While the company started as a pool construction company, it evolved over the years into a multi-divisional entity that also included a service company, a retail operation, and a fencing supplier. Faced with these challenges and a desire to adapt to technological changes in the local advertising environment, Baker looked to Captiva for guidance on how to more effectively leverage its brand across multiple business units and create a more efficient, web-based lead generation program.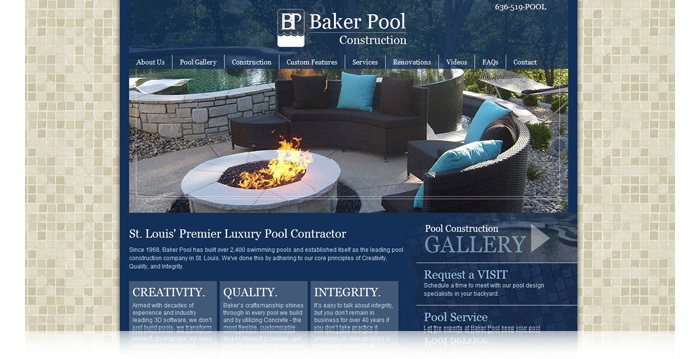 Baker Pool Construction had already started down the path of creating its own web presence for its pool construction business, but the service business languished and there was uncertainty as to how to handle branding conflicts with the Baker Pool & Spa retail operation.
To capitalize on the Baker Pool name, Captiva created slightly modified logos and then developed a new website to promote the pool construction and pool service businesses. Built on Captiva's Empoweren CMS, the new site featured a large number of photo galleries so that Baker's design team could use it as a sales tool when meeting prospective clients. The site was also constructed to rank well in the search engines and all Title Tags and Meta Descriptions were built to not only target relevant keyword phrases, but promote the Baker Pool Construction and Baker Pool Service brands.
To further enhance its online presence and generate more leads for the company, Captiva focused on getting information and links to the new site published in local online directories ensuring that all the listings contained relevant and consistent information. The CPC campaign was completely revamped and offline promotional activities were integrated into the online campaign.
The end result is an SEO friendly website that is easy to navigate and showcases the great work that Baker Pool Construction produces. In addition to generating more leads in a more cost effective manner, Baker reduced the ongoing costs associated with updating their website. By having its website on Empoweren, Baker employees can easily update any the site whenever they need to.