Barcom Security
Barcom Security provides simple residential and commercial burglar and fire alarms to complex integrated enterprise security systems. The company wanted to completely re-brand the organization to focus individually on their main services. They called upon Captiva Marketing to redesign their website as well as designing a new brand identity.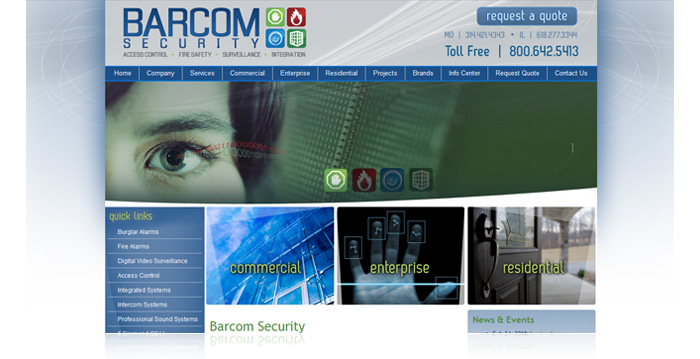 The new site clearly defines the business by their three main services; commercial, residential, and enterprise security. The amount of content present on the site is much more in depth than the old site because they were able to clearly define the roles of each service and the available features for each type of security. Internal employees can now easily add new pages anytime Barcom's services or brands expand.
The main feature that Barcom implements is the Forms Manager. They wanted to better organize the way that the company captures leads and they were able to do that by including forms that were backed up in the Empoweren system. Every form that is filled out is automatically emailed to certain contacts within Barcom, but all the information is also stored online so that they can download spreadsheets detailing all the recent leads.
Barcom also used the Forms Manager to create a feedback form. The company wanted to improve their services by encouraging current customers to go online and rate their service. This is invaluable feedback as the company can find out what they are doing well and what they need to improve.
Overall, the entire site helps reinforce the company's new brand identity and Barcom is using the new brand to redo all of the company materials including signage, business cards, and marketing materials.