Chemir Analytical Services
Chemir Analytical Services, a division of Evans Analytical Group, is an independent laboratory that helps companies solve difficult problems and create innovative products.  They serve a wide variety of industries by providing analytical, deformulation (reverse engineering), materials identification, failure analysis, chemical testing, polymer analysis, custom synthesis, litigation support and consulting services.
Captiva Marketing and Chemir have worked together for many years.  In the past, their website was not on a CMS and they used other web publishing software and tools to update their website. However, they noticed that when updating the site, things were not staying consistent and it was getting harder to make updates in house.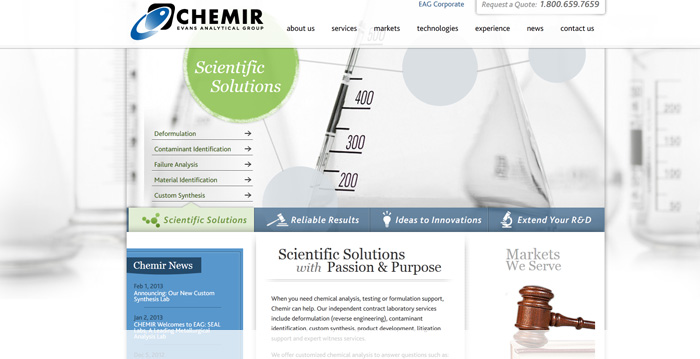 When it came time to redesign their site in 2012, Chemir wanted to swtich to the Empoweren Content Management System so that in-house employees could maintain the site. The company regularly makes updates to content and adds new service pages, case studies, newsletters, press releases and trade show events.
Because the Empoweren system automatically applies the same design and layout to every new page created, Chemir no longer has to worry about new pages on the site not lining up with their existing look.  Additionally, because Chemir is highly focused on SEO efforts, the Empoweren CMS allows them to easily continue to grow their site content and add new targeted pages to the site.