City of Chesterfield
With a population of 46,000, Chesterfield, Missouri is one of St. Louis' largest suburbs and one of the larger municipalities in the state of Missouri. The City of Chesterfield includes independent police and public utility departments, a self contained government including a city council, mayor's office and municipal courts, an extremely vibrant economic development organization, and an active parks and recreation department that maintains more than 319 acres of green space.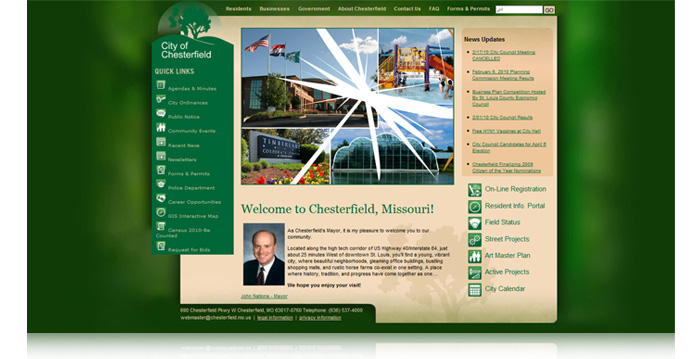 Chesterfield determined that the city needed a new website that could encompass all the necessary city information while also engaging the citizens of Chesterfield in order to get them more involved. They considered multiple content management solutions such as Joomla but decided to work with Captiva Marketing because of the company's ability to custom design management modules that would fit the city's exact needs. Captiva Marketing integrated the Empoweren Content Management system so that Chesterfield could maintain all day-to-day updates on the city website without the aid of a technical professional.
Coordinating Multiple Departments
Chesterfield needed a site that could be easily updated by multiple departments. In addition, because Chesterfield is a governmental entity, there needed to be added layers of security and approvals so there would be no unauthorized updates to the site. Captiva was able to develop a custom content management system that added the necessary precautions while authorizing individuals to make changes to certain sections.
The city also wanted a master calendar that could be revised by multiple departments, where events could show up on the master calendar and in individual department calendars. They also wanted news modules that highlighted city news and department news on different pages.
Captiva developed a system that allows individuals to only update specific sections of the website. Each employee is supplied with a unique username and password that has specific user rights attached to it. Additionally, some departments within the city have an approval process that requires a supervisor to approve any content changes before they go live on the site. As an added security, all content changes are tracked by individual and the date submitted.
Fully Integrated Site
The end result is an extremely in-depth website that features different departments and houses all the necessary city information. Captiva's development team was able to build custom Empoweren modules such as the ball field reservation module. Captiva also integrated the city's Twitter updates directly into the site so that news would be automatically updated. Now, Chesterfield is able to offer their citizens an all-inclusive resource for city information.