Convergent Communications
Convergent Communications of St. Louis supplies voice, data, and video communication services and technologies to some of the largest corporations and organizations in the St. Louis metropolitan area. They approached Captiva Marketing because their old website did not reflect the caliber and expertise of a company that provided sophisticated voice and data communications solutions. They also wanted more control over their site and more leads.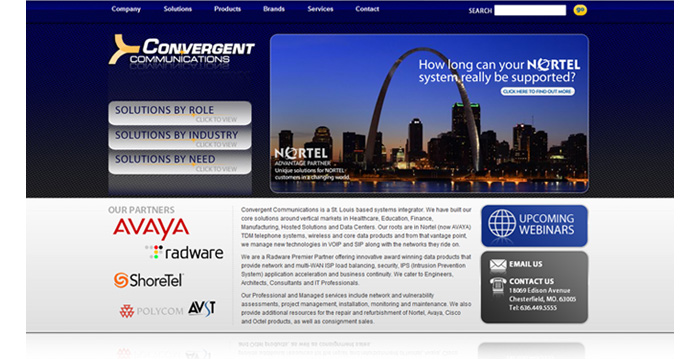 Improved Image and Marketing Message
Working hand-in-hand with company officers, Captiva's marketing and design teams developed a very professional, high-tech site that greatly improved the company's appearance to customers and prospects. The home page featured a large Flash area that delivered its primary marketing messages, a graphical partner area promoting the brands they supported, and a prominent link to information on upcoming webinars.
More Control
Since Convergent Communications focuses on delivering corporate- and enterprise-level solutions, they offer weekly webinars to CIOs and IT Managers on various topics ranging from Application Layer Switching to WAN Load Balancing. Empoweren allows them to easily add new webinar listings to the website using the Events Manager calendar feature and link to the webinar registration website.
The company also offers a wide variety of products, brands, and services in order to serve its clients efficiently. Empoweren's content management system lets Convergent employees add, edit, and delete pages as needed, placing content with ease using the WYSIWYG page manager to reflect their current offerings.
More Leads
To help Convergent generate more leads through its website, Captiva's SEO team optimized the individual pages of the site, educated Convergent on link building and submission opportunities, and implemented more prominent calls to action. The new website not only utilizes the Empoweren Forms Manager to prompt visitors to contact the company about retaining its services, but Captiva web designers also incorporated Convergent's mailing address, phone number, e-mail address, and a link to the Contact Us form in the sidebar of every page.
Ultimately, the Convergent Communications website is efficient and search engine-friendly. Breadcrumb navigation and notable keyword links embedded on the bottom of every page of the site lets users and search engines read the website easily, increasing online presence and sales potential.