Friends of Kids with Cancer
Friends of Kids with Cancer is a nonprofit organization dedicated to enriching the lives of children and their families during battles with cancer. Friends of Kids has grown significantly in the past 15 years after being started by two parents who added toys to a treatment center so kids could play during treatments to take their minds off procedures and needle sticks.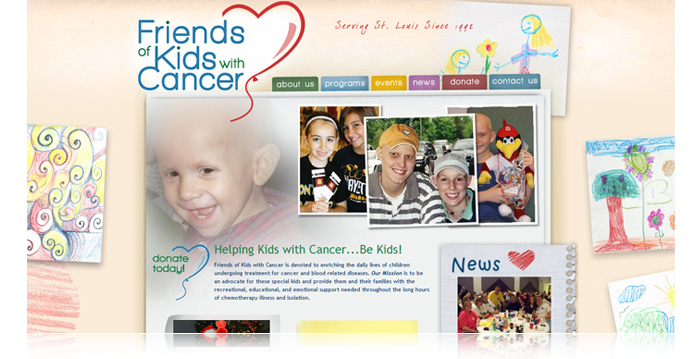 The organization's original website had outgrown its capabilities over the years. In order to develop a website that reflected the organization's values and events, Friends of Kids partnered with Captiva Marketing for a complete overhaul of the organization brand, including a logo redesign, and the design and development of the new www.friendsofkids.com.
Revamping a Brand
Friends of Kids with Cancer is dedicated to making the treatment process a little more enjoyable through programs that are focused in three areas: educational, recreational, and emotional support. The new logo reflected the mission of delivering joy to families in this difficult time by incorporating an open heart-shaped balloon into the organization's new logo.
The goal of the new website was to engage visitors by making them better informed about what Friends of Kids is currently doing. For the new website, Captiva helped Friends of Kids highlight events, news, and inspirational stories. This was accomplished using the Empoweren News Manager which allows internal employees to update stories in a word document-like editor and gives them the option to publish certain news on a "news feed" on the site's home page.
Captiva also installed the Empoweren Publicist into the site so that Friends of Kids can now send out email updates on events and news stories to their entire email list. This system streamlines the email process and allows Friends of Kids to store email contacts directly in the back end of their website so everything is in one place as opposed to having to subscribe to an external email marketing service.
Increasing Online Donations
Captiva also secured the website so that Friends of Kids could take payments over their website. Now Friends of Kids can accept donations and patrons can pay for events in advance and buy merchandise on the site. Because of this addition, online donations have gone from being a rare occurrence to almost a daily event.
"How can we ever thank you for bringing Friends of Kids with Cancer to a higher professional level? Even in the midst of our hurting economy, we made our budget; and we definitely owe all of that to Captiva Marketing. We continue to receive compliment after compliment about our website and we are amazed with the number of people making online donations and reservations," said Judy Ciapciak, Executive Director of Friends of Kids with Cancer.
The final product is a user-friendly website that is perfectly suited for Friends of Kids with Cancer's needs. Now the organization can focus on providing more services to these special children through increased donations and a more focused brand.