Gabriel Group
Gabriel Group is a marketing resource company specializing in fulfillment and inventory management, web to print and print on demand service, cross channel marketing, digital asset management, database marketing, direct mail, variable data print, and print management. Gabriel Group engaged Captiva Marketing to redesign the marketing resource management company's website http://www.gabrielgr.com.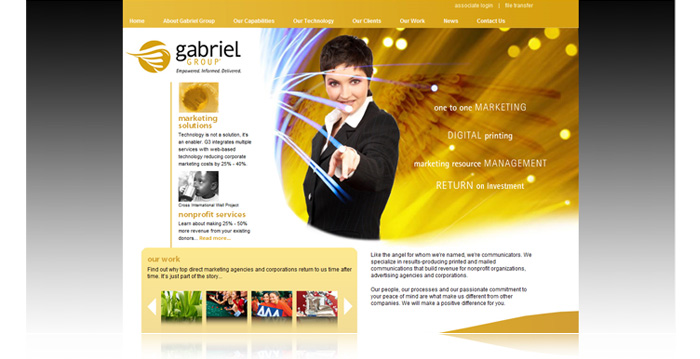 The company's previous site did not accurately reflect the scope of Gabriel Group's extensive data-driven mailed and printed communications services. As a result, they needed a more robust site that not only highlighted Gabriel Group's offerings, but also one that established them as a viable marketing company by spotlighting key clients in an extensive client gallery.
Captiva suggested that the company adopt a content management system in conjunction with the site redesign. Captiva Marketing designed a new look for Gabriel Group's website and incorporated the Empoweren CMS into the background so that Gabriel Group's team members can now make content changes on the website internally.
Empoweren enables Gabriel Group to keep site content current to reflect the company's services and current clients. Plus, consistently updating site content is one of the best ways to improve how often the search engines spider a website. So Empoweren is not only allowing Gabriel Group to control their messaging, but Empoweren is also giving them the ability to improve their organic search rankings
Showcasing Client Work
One feature of the content management system that Gabriel Group used to its fullest potential is the Empoweren Gallery Manager. Gabriel Group wanted a dynamic case study section that told the company's story while offering the credibility of big company names. As a result, they decided to highlight case studies in a scrolling photo gallery. Each case study has a corresponding image along with a story about how Gabriel Group solved a logistical problem for the organization.
Improving Client Services
Gabriel Group also has an eCommerce aspect of their website. Customers can order reprints of saved documents or order personalized documents such as new business cards. Because Gabriel Group handles large and small orders, the eCommerce store is an integral part of the company's business. Captiva fully integrated this customer-only login area with the front end of the website.
Integrating the Entire Company
The end result is a website that more accurately reflects the capabilities of the marketing resource management company. Because of the Empoweren system, team members can now consistently update site areas such as the newsroom, career manager, or case study pages without having to invest in additional resources. Empoweren has given the company the ability to maintain independence over their web content.