Scratch Junior Golf
Founded by by PGA Professional Rick Smith, ranked as the #2 golf instructor in the world, who has helped tour players win multiple Masters, U.S. Opens, British Opens, and PGA Championships, and also PGA Professional, Tina Mickelson, recognized as one of the great instructors of our day, Golf Ambassador for Callaway Golf and regular media personality, Scratch Golf provides youth golf lessons.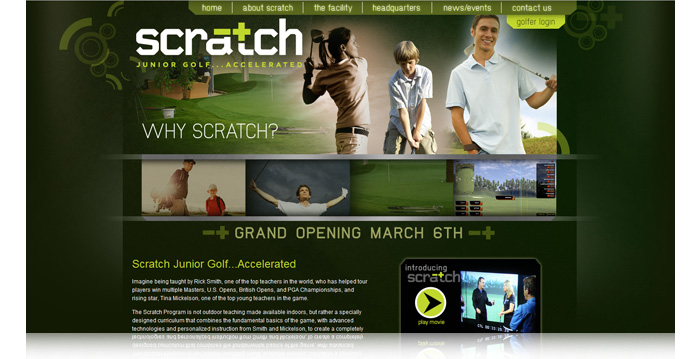 The Scratch Program is not outdoor teaching made available indoors, but rather a specially designed curriculum that combines the fundamental basics of the game, with advanced technologies and personalized instruction from Smith and Mickelson, to create a completely unique learning experience.
Scratch Golf needed a website that reflected their superior teaching curriculum as well as a site that could grow as the organization did. That is why they turned to the Empoweren Content Management System.
Scratch employs many of the modules in Empoweren such as the Photo Gallery Manager, the Video Manager and the Publicist. Because the Scratch facility is brand new, they are able to show it off using the gallery manager. And because Scratch's teaching technology is state-of-the-art, the photos give them the ability to tell the Scratch teaching story in a more engaging manner.
They use the Video Manager to display a video from Smith and Mickelson to explain the Scratch concept. For the grand opening, Scratch used the Empoweren Publicist to send out emails announcing their grand opening. The grand opening was so successful that more than 600 people showed up and Scratch has to use a lottery system to choose which students will be admitted to the program first.
With Empoweren, Scratch Golf is now poised to be the premiere youth golf instruction facility in California and they can keep their site updated to reflect the institutes growth and success.