St. Louis Office Furniture
St. Louis Office Furniture engaged Captiva Marketing to build a search engine-friendly website that positioned it as one of the leading value-oriented office furniture dealers in St. Louis. The company had a limited budget and offered an extensive line of office and contract furniture products from over 50 manufacturers, so much of the site development was going to need to be done in-house.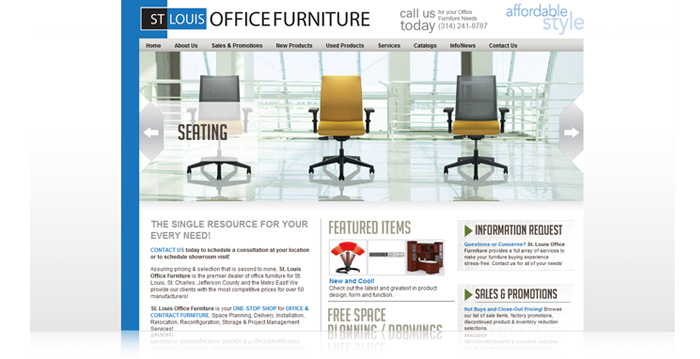 Captiva's SEO and design teams worked together to design and implement the look and user navigation for the site. The home page design included a scrolling Flash application that not only defined the company's primary product lines but also gave it a more professional image. Captiva then set up the internal page templates and developed sample pages for each page type.
Once all of this was complete, members of Captiva's account management and development teams trained St. Louis Office Furniture employees on how to populate the site with content, add image galleries, and create new pages. The Empoweren content management system eliminated the need for programming talent to populate the site, saving the company a significant amount of money. It also helped team members learn how to use the Empoweren solution. Now they are poised to make changes any time they are needed.
The end result was an updated website that encompasses products from all of St. Louis Office Furniture's manufacturers as well as areas for special sale items, hot buys, and discontinued pieces. All new web content is developed in a search-friendly manner and the new pages are helping the site generate a much larger online presence.