St. Louis Tag
St. Louis Tag, a custom manufacturer of hang tags, wanted a way to promote their new online store implemented by Captiva Marketing's eCommerce division. Captiva suggested adding the Empoweren News Manager and Publicist to their eCommerce site so the company could execute an internally managed public relations program.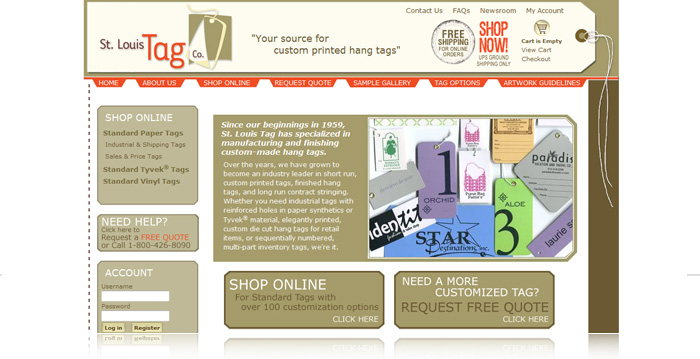 St. Louis Tag needed a public relations program that would target industry trade publications for editorial coverage, increase their presence in the organic search rankings, deliver valuable back links to the company site, and add keyword rich content to their site on a regular basis.
Driving Web Traffic With PR
St. Louis Tag had a marketing manager with writing experience, so Captiva Marketing was able to give the company the tools to run a public relations program in-house. Captiva Marketing was able to develop a strategy and teach St. Louis Tag's marketing manager how to use the Empoweren PR tools to administer some of the more mundane PR tasks.
The News Manager enables individuals to upload news stories to a site's news room in order to keep it updated on a regular basis. The Publicist stores media contact information and allows companies to then send press releases and news stories to targeted media lists in hope of gaining editorial coverage.
Captiva Marketing used the Cision Media Database to develop media lists that target industries such as the printing and retail industries, two of St. Louis Tag's key customer groups. Captiva then trained St. Louis Tag's marketing manager on the basics of implementing an online PR program. Training included:
Press release writing tips
Uploading releases to the company website
Using newswire services to broaden the reach of press releases
Writing email pitches
Sending releases to targeted media lists using the Empoweren Publicist
The training session also included a strategy session that helped the company identify potential press release topics and how to reach target industries. Captiva still consults with the company on certain PR projects and lends a hand when needed in order to maximize PR pieces.
Internal Investment
Instead of engaging a public relations firm for a short term project, St. Louis Tag was able to invest in the education of an internal employee and tools that allow the company to run a sustainable public relations program.
The company has seen wide distribution of company press releases and quite a few industry publications have stories featuring the company's products slated in the coming months. Captiva is continuing to support the PR initiatives by developing media lists in new target industries. From a search perspective, the press releases have helped enhanced the company's organic presence, and the site's link popularity has grown since implementing the program.