The Workout Co.
The Workout Co. is a 24-hour family fitness center located in St. Louis and a great example of how even a small, local business can gain so much from Empoweren. Like many businesses, its website needed to serve as more than just an online brochure. It needed to help generate new customers and keep existing members informed.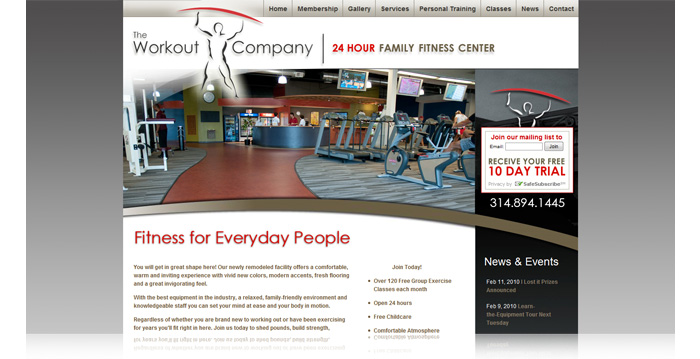 Generate New Customers
To entice new members, the site includes an easy-to-update photo gallery that incorporates the Lightbox View to display photographs of The Workout Co.'s facilities and equipment as well as extensive detail on all of the gym's services. Captiva's design team also incorporated a powerful link featuring the company's 10-Day Free Trial and linked this to a customized inquiry form. The site was optimized to comply with search engine ranking algorithms and as the site gains link popularity it will benefit from a strong online presence.
Keeping Members Informed
For members of the gym, comprehensive, up-to-date class schedules are posted on the site in real time by The Workout Company staff. The site features the full calendar view with pop-ups that detail the time, location, and instructor for each activity or class.
The Empoweren News Manager further allows the company to easily make announcements regarding special hours, upcoming classes, and contest winners. News is featured on the home page and housed within the News section of the site.