Wiese USA
As the largest material handling company in the Midwest, Wiese has over 30 locations in seven states, 900 team members and an extensive line of equipment and warehouse products. Captiva Marketing had built the company's existing website and achieved significant results from a search engine optimization perspective, but the site had grown to over 700 pages. Not only was the marketing message getting distorted, but the site had become cumbersome to manage. A major site overhaul was needed and Empoweren was the ideal solution.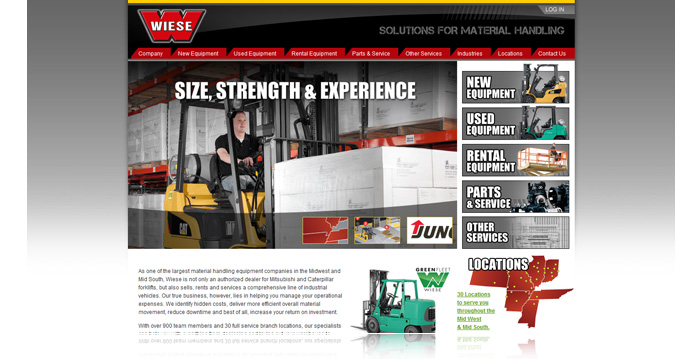 Improved Marketing Message
While its existing site had focused heavily on promoting the product lines that it carried, Wiese management wanted to put more emphasis on what made Wiese really stand out from its competitors: its size, strength, and experience. To accomplish this while still emphasizing its core product offerings (new, used, and rental equipment along with parts and service) a Flash piece was designed for the home page that positioned the company properly against it competitors. Next to this, we placed prominent links to each of its core offerings so that visitors could immediately go into the section of their choice.
Enhanced Management Capabilities
Even with the change in focus to a more marketing oriented site, Wiese still had large amount of equipment to promote as well as deals in rentals and used equipment, so the ability to easily update the website was imperative. With Empoweren, Wiese employees can now modify the website with new pictures and product information, HR can update job and career info, and everything from news releases to training class schedules can now be managed by Wiese employees.
Customized Integration
To more effectively generate leads for its huge fleet of used equipment, Captiva's development group created a customized used equipment application that ties to the company's asset allocation software. Now, used equipment is automatically fed into the at regular intervals so customers can have an accurate list of all available units.