Windows on Washington
WOW Banquets manages the premier event venues in the St. Louis area: Windows on Washington and Windows off Washington, two unique spaces that combine loft atmospheres with class and elegance. WOW spaces are sought after for weddings, banquets, corporate events, proms, and other special events. In order to highlight the venue's capabilities and service, WOW Banquets needed a new website that captured the essence of the trendy space.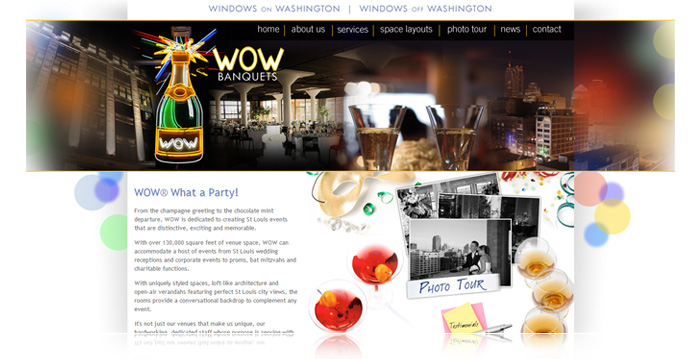 WOW wanted a content management system that would enable them to update photos, services, pricing and packages as needed without engaging a programmer and designer for simple content changes. The Empoweren solution by Captiva Marketing is versatile enough to integrate with an eye catching site design while at the same time delivering extraordinary content management system functionality.
The event venues' old site no longer reflected the vibrant and trendy space as all the images were extremely dated. Additionally, making any changes to the site was difficult so content was not updated on a regular basis.
Highlighting the Space
From the signature popping champagne bottle to the blown glass art and spectacular views, Captiva Marketing focused on spotlighting WOW's best asset: the space. The Empoweren Gallery Manager allowed WOW to upload photos that spotlight room size, event versatility, and design capabilities. Now brides and event planners can better imagine what an event in a WOW space would look like because they can see all the options on the WOW site.
Also, with the new enhanced gallery, WOW can update the site on a regular basis in order to show the scope of the space and to create a living archive of events and capabilities.
The Empoweren Forms manager allowed WOW to create a detailed information form that helps event coordinators to capture invaluable information about an event planner's need prior to responding to any web inquiries. This allows the staff to have a better estimate of costs and capabilities when they speak with the potential party planner.
Completing the Picture
The new website now mirrors the company's vision and their capabilities to be a versatile event space. And with the Empoweren Content Management System, WOW is now able to keep their website as up to date as their venue is.
"Thank you so very much! I have gotten rave reviews from not only our staff, my friends and family, but also other wedding vendors and clients. I think you captured what I wanted and the direction our company is looking to navigate," said Anna Klein, Sales Manager of WOW Banquets.