Friends of Kids Increases Online Donations with Aid of New Site with Empoweren
St. Louis (January 2010) -- Friends of Kids with Cancer reviewed their yearly donations and since the new website using the Empoweren system was implemented, online donations have gone from being a rare occurance to almost a daily event. When developing the new site, Captiva secured the website so that Friends of Kids could take payments online. Now Friends of Kids can accept donations and patrons can pay for events in advance and buy merchandise on the site.
The organization's original website had outgrown its capabilities over the years. In order to develop a website that reflected the organization's values and events, Friends of Kids partnered with Captiva Marketing for a complete overhaul of the organization brand, including a logo redesign, and the design and development of the new www.friendsofkids.com.
"When first meeting with Friends of Kids, I knew Captiva could help them expand their reach and accomplish their marketing and growth goals," said Bill Brasser Partner at Captiva Marketing. "As a father of 3 children, I know how good it makes me feel to see a smiling faces no matter the situation. Knowing that the efforts and tools we have provided Friends of Kids will help put smiles on many children's faces inspires me to continue to help this great organization grow."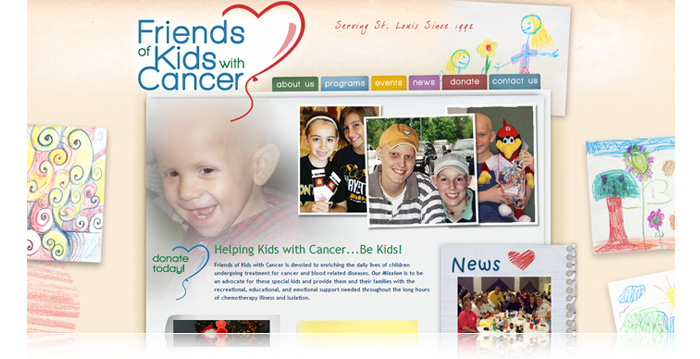 The goal of the new website was to engage visitors by making them better informed about what Friends of Kids is currently doing. For the new website, Captiva helped Friends of Kids highlight events, news, and inspirational stories. This was accomplished using the Empoweren News Manager which allows internal employees to update stories in a word document-like editor and gives them the option to publish certain news on a "news feed" on the site's home page.
The final product is a user-friendly website that is perfectly suited for Friends of Kids with Cancer's needs. Now the organization can focus on providing more services to these special children through increased donations and a more focused brand.
"How can we ever thank you for bringing Friends of Kids with Cancer to a higher professional level? Even in the midst of our hurting economy, we made our budget; and we definitely owe all of that to Captiva Marketing. We continue to receive compliment after compliment about our website and we are amazed with the number of people making online donations and reservations," said Judy Ciapciak, Executive Director of Friends of Kids with Cancer.
About Captiva Marketing
Since 2002, Captiva Marketing has designed, developed and implemented more than 300 search engine marketing campaigns. Founded by Mark Forst and William Brasser, the St. Louis-based marketing firm specializes in search engine marketing, strategic marketing, web design and development and online public relations. Captiva Marketing recently unveiled its Empoweren Content Management Solution that is a fully integrated, web based interface for managing website content that is supported by a talented group of professionals skilled in all areas of Internet Marketing. Empoweren allows both technical and non-technical personnel the ability to quickly and easily modify web pages, without learning a programming language. For more information, visit www.empoweren.com or call 1-877-227-8382.
###