Empoweren Introduces Publicist Module with PR Training Program
St. Louis (June 2010) -- Captiva Marketing recently enhanced the Empoweren system by implementing the Publicist module that allows clients to effectively manage PR campaigns from within the Empoweren Suite. The Publicist was developed to enhance the News Manager's news posting features by enabling companies to automatically send press releases to trade media in their industry.
"The Publicist was designed to streamline some of the more time intensive areas of public relations work, most notably the time it takes to physically send pitch emails to the media," said Mark Forst, partner and co-founder at Captiva Marketing. "Enhanced by our new PR training program, we can give companies all the tools to invest in building an internally maintained PR program instead of needing to hire a PR firm for standard PR efforts."
One of the first clients to implement the Publicist module was St. Louis Tag. The custom tag manufacturer wanted to increase awareness of its brand to retailers and printing companies. They wanted to implement a public relations program, but had an internal employee with a journalism degree that could handle running the PR program with some support from Captiva. As a result, Captiva installed the Empoweren News Manager and Publicist on their site.
Captiva's PR specialists held seminars for the marketing employee to teach them all of the necessary steps for running a PR program. This included developing a strategic story calendar and writing pointers like how to include keyword phrases in press releases in order to enhance the SEO elements of a press release.
The implementation of a public relations program served many purposes for St. Louis Tag. From a search perspective, by adding a newsroom to St. Louis Tag's website that included keyword targeted press releases, the company now has the ability to add new content to the site. Releasing these keyword targeted press releases on the online newswires, St. Louis Tag has improved its organic ranking results, with press releases performing extremely well for some of the company's subsidiary keyword phrases. These press releases also often deliver back links to http://www.stlouistag.com and help improve the site's link popularity.
For the more traditional aspect of the public relations program, Captiva Marketing developed targeted media lists that included reporter contact information for trade publications in the printing and retail industries. The Empoweren Publicist stores this media contact information and enables companies like St. Louis Tag to send a press release to an entire list of reporters in just minutes, eliminating the need to send individual emails to hundreds of reporters at a time.
"Since implementing a PR program using the Empoweren Publicist, St. Louis tag has caught the attention of reporters within its industry and has helped improve their organic search presence for many keyword phrases. For other companies, the Publicist will give companies the tools to run a PR campaign while providing support from our team of PR specialists that can help guide strategy and lend a hand to help maximize these efforts," said Forst.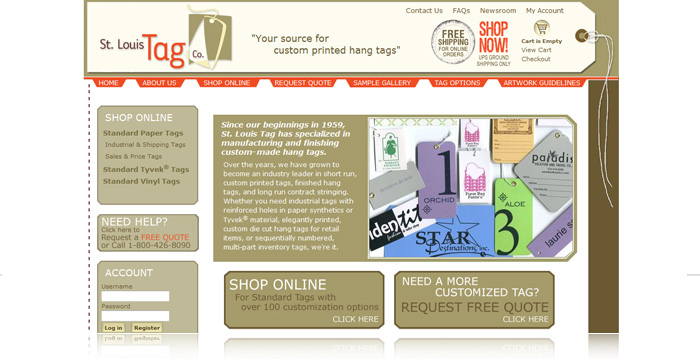 About Captiva Marketing
Since 2002, Captiva Marketing has designed, developed and implemented more than 300 search engine marketing campaigns. Founded by Mark Forst and William Brasser, the St. Louis-based marketing firm specializes in search engine marketing, strategic marketing, web design and development and online public relations. Captiva Marketing recently unveiled its Empoweren Content Management Solution that is a fully integrated, web based interface for managing website content that is supported by a talented group of professionals skilled in all areas of Internet Marketing. Empoweren allows both technical and non-technical personnel the ability to quickly and easily modify web pages, without learning a programming language. For more information, visit www.empoweren.com or call 1-877-227-8382.
###