Empoweren Team Develops 1,300 Page Site for Amini's in Three Weeks
St. Louis (August 2009) -- Amini's Home, Rugs and Game Rooms is the nation's largest retailer of game room furniture, area rugs, outdoor furniture, theater seating and barstools. With more than 1,300 products, Amini's needed a new website that showcased their offerings. By implementing the Empoweren Content Management System, Captiva Marketing was able to develop the entire 1,300+ page site in three weeks including site design and development.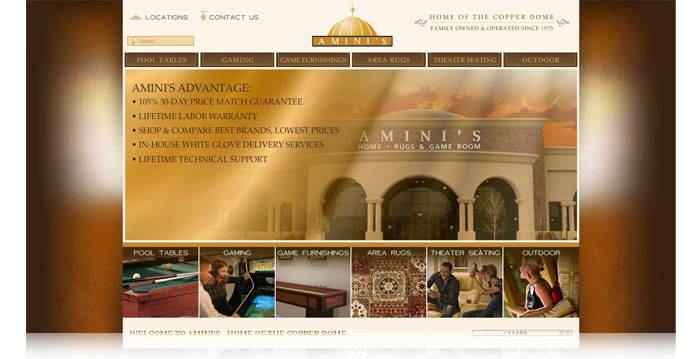 Because of the nature of the home furnishing and game room business, Amini's product line completely changes throughout the year. As a result, the company needed a solution that allowed them to easily modify, add and remove products on a regular basis. At the same time, Amini's wanted their site to perform more effectively within the search engines. They turned to Captiva Marketing because the Empoweren system couples the team's search engine knowledge with the ease-of-use of the Empoweren content management system.
"The large scale scope and product range of Amini's required a site that not only highlighted the right products at the right time, but that could evolve with new product lines," said Bill Brasser, partner and co-founder of Captiva Marketing. "The Empoweren system gives the Amini's team that flexibility by enabling them to edit all pages of the website internally without the aid of a web designer or programmer."
With a large sale approaching, Amini's was under a tight timeline to get a new site live. Without a content management system like Empoweren, each page would need to be laid out individually by a web designer and then hard coded into the site's architecture. This is quite a daunting process and many companies end up spending six months or more developing a site of that size.
"Empoweren enabled the Captiva team to pull together to publish everything to the new platform in weeks instead of months. This is unprecedented speed that not only saves companies from lofty bills, but also allows companies like Amini's to meet tight business deadlines," said Brasser.
In addition to the speed of implementation, the Empoweren system has SEO elements seamlessly integrated into its structure so that search essentials are included in each new page that is developed. URLS are automatically generated using user supplied keywords and meta descriptions, title tags and keywords all are extremely easy to enter. As a result, Empoweren helped Amini's immediately improve their organic search rankings in the major search engines.
"The development speed and efficiency Amini's site illustrates the scalability of Captiva and is a testament to just how easy it is to develop a site using the Empoweren system. We are now poised to to deliver other company's large scale sites on tight timelines that are also search engine compliant," said Brasser.
About Captiva Marketing
Since 2002, Captiva Marketing has designed, developed and implemented more than 300 search engine marketing campaigns. Founded by Mark Forst and William Brasser, the St. Louis-based marketing firm specializes in search engine marketing, strategic marketing, web design and development and online public relations. Captiva Marketing recently unveiled its Empoweren Content Management Solution that is a fully integrated, web based interface for managing website content that is supported by a talented group of professionals skilled in all areas of Internet Marketing. Empoweren allows both technical and non-technical personnel the ability to quickly and easily modify web pages, without learning a programming language. For more information, visit www.empoweren.com or call 1-877-227-8382.
###